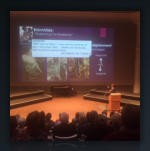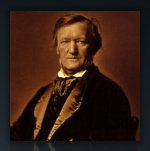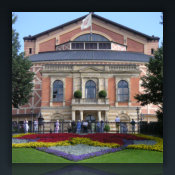 Celebrating 40 years as a society!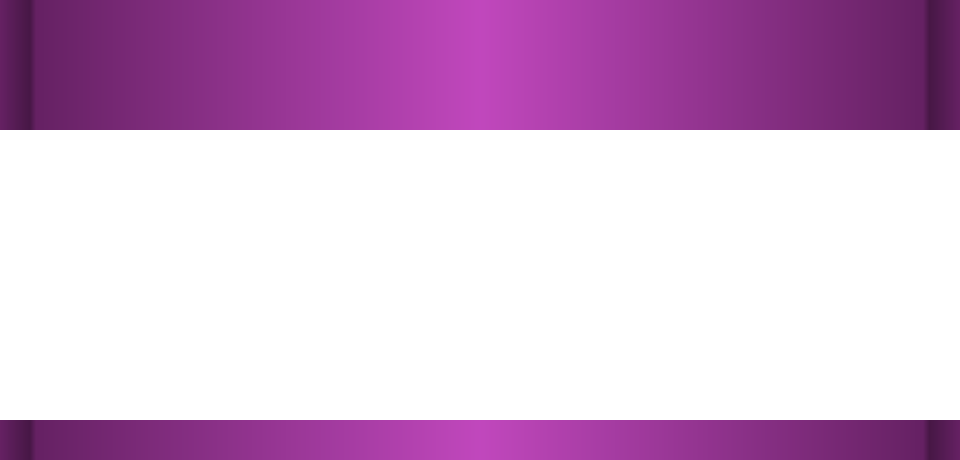 © 2022 Wagner Society of Southern California
Events
The WSSC plans unique events
throughout the calender year…
Our events occur in several regular places
throughout the year and sometimes in special
locations which will be noted:
NOTE

: ZOOM Events

are a members
preferred attendance, then guests
are on a first come first serve basis.
The Colburn School
200 S. Grand Avenue
Los Angeles, CA 90012
Directions
Parking
The Chairman's Home:
1630 South Barranca Ave.. #167
Glendora, CA 91740
Directions
Bayreuth Festival
Festspielhügel 1-2
85445 Bayreuth


A DISCUSSION WITH…
Katharina Wagner
Sunday, Nov. 13th,
@ 11AM PST
via Zoom
…with John Mastrogiovanni, hosted by the
WSSC, inviting all the English-speaking Wagner
Societies in North America and beyond. This
will be a live discussion with Katharina Wagner
via Zoom. After our discussion we will have a Q
& A. If you would like to ask her a question,
please fill out the question option at the
bottom of your RSVP form

.

Only pre-submitted
questions will be offered.
Thank you for
participating!
Born in 1978 in Bayreuth, Katharina Wagner
studied theatre studies at the Free University
of Berlin and now lives in Bayreuth and Berlin.
During her studies, she also held numerous
assistant director positions under, among
others, Keith Warner, and Harry Kupfer. She
also worked as assistant director and
employee of the festival management at the
Bayreuth Festival since 1996, her directorial
debut on the Green Hill followed in the
summer of 2007 with The Meistersinger von
Nürnberg. It was followed by productions of
Rienzi at the Bremen Theatre (2008),
Tannhäuser in in Las Palmas de Gran Canaria
(2009) and Puccini's Madama Butterfly (2010)
and Tiefland (2011) at the Staatstheater,
Mainz. At the Bayreuth Festival in 2015, she
staged Tristan and Isolde. In 2018 her
production of Fidelio staged its premiere in
Tokyo.
Since September 2008, the great-
granddaughter of Richard Wagner has held the
position of artistic director of the Bayreuth
Festival and managing director of BF Medien
GmbH, a subsidiary of the Bayreuth Festival.








LOHENGRIN: Behind the Scenes
Drama at the MET
with Erica Miner
Sunday, Dec. 11th @ 1:00 PM PST
at the Colburn School
From onstage fainting during Elsa's Procession
to the infamous thousands of nonstop notes
that practically make string players' bow arms
fall off, Wagner's Lohengrin is rife with untold
difficulties that only an insider would be privy
to. Former Met Opera violinist Erica Miner
reveals the behind-the-scenes dramas that
made her experiences with this much-loved
opera so memorable.
Violinist turned author Erica Miner has had a
multi-faceted career as an award-winning
screenwriter, author, journalize and lecturer. A
native of Detroit, she studied music at Boston
University with Boston Symphony Orchestra
concertmaster Joseph Silverstein, where she
graduated cum laude; the New England
Conservatory of Music; and the Tanglewood
Music Center, summer home of the Boston
Symphony, where she performed with such
celebrated conductors as Leonard Bernstein.
Erica went on to perform with the prestigious
Metropolitan Opera Company for twenty-one
years, where she worked closely with
renowned maestro James Levine.
When injuries from a car accident spelled the
end of her musical career, Erica drew upon her
lifelong love of writing for inspiration and
studied screenwriting in New York and Los
Angeles with such script gurus as Linda Seger
and Ken Rotcop. Erica's screenplays have won
awards in such recognized competitions as
WinFemme, Santa Fe and the Writer's Digest.
This event will be recorded for our members who
cannot attend the live event and will be available
in the WSSC Media Archives.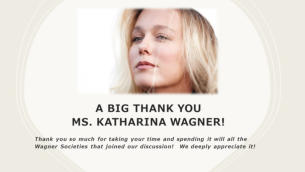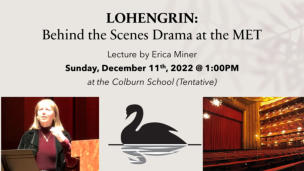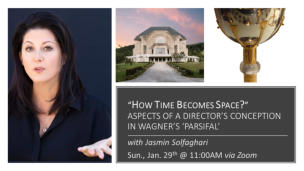 HOW TIME BECOMES SPACE?
with Jasmin Solfaghari
Sunday, Jan. 29th
@ 11:00 AM PST
via Zoom
"HOW TIMES BECOMES SPACE? ASPECTS OF A
DIRECTOR'S CONCEPTION IN WAGNER'S
'PARSIFAL'" For the last year Ms. Solfaghari has
been working on a unique production of
Parsifal on the Goetheanum stage in
Switzerland for Easter 2023 as a co-production
of Pamy Media Productions and the
Goetheanum. It combines a stage language
exploring the music and the fluid movement of
eurythmy.
Jasmin Solfaghari was born in
Freiburg/Germany in 1963 as daughter of
German-Persian parents. After having spent
the first six years of her childhood in
Teheran/Iran she got her school and musical
education in Freiburg. In 1989 she graduated
in stage directing at Hochschule für Musik und
Theater Hamburg in the class of Götz Friedrich
(diploma).
Jasmin Solfaghari collaborated with
conductors such as Christian Thielemann, Sir
Simon Rattle, Philippe Augin, Jacques
Lacombe, Marc Albrecht, Antonello Allemandi,
Donald Runnicles, Markus Stenz, Lothar
Zagosek and more. In 2018 she stepped in as
director for "The Ring of the Nibelung" for the
Odense Symfonieorkester and a cast e.g.
Catherine Foster, Torsten Kerl, Lioba Braun,
Gerhard Siegel, Jennifer Wilson, James
Johnson.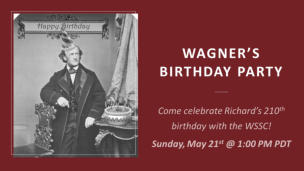 WAGNER'S BIRTHDAY PART
Come celebrate Richard's 210th
birthday with the WSSC!
Sun., May 21st
@ 1:00 PM PST
at the Colburn School
Join us for food, fun, anecdotes, and prizes as
we celebrate Richard Wagner's 210th birthday!
Members are encouraged to sign up and bring
with them personal stories, poetry, memories,
and their favorite excerpts from Wagner's
music. We will be putting together a program,
so when you RSVP please include what you will
be presenting. The first one to sign-up, will get
the first prize offered!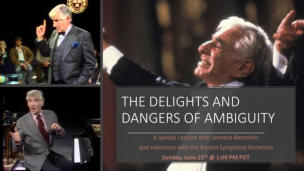 THE DELIGHTS AND DANGERS OF
AMBIGUITY
A special lecture with Leonard
Bernstein…
Sun., June 25th
@ 1:00 PM PST
at the Colburn School
This lecture by Leonard Bernstein was
originally presented at Harvard University in
1973. It takes the audience on an in-depth
exploration of the new tonal fields by
composers of the Romantic era, including
Richard Wagner, Hector Berlioz and Claude
Debussy. In addition to the lecture, the
maestro will conduct the Boston Symphony
Orchestra with examples from Romeo and
Juliet, Tristan und Isolde, and Prelude a l'apres-
midi d'un faune. This informative lecture with
its performances is approximately 2 hours and
20 minutes.
This event will be recorded for our members who
cannot attend the live event and will be available
in the WSSC Media Archives.
Thank you for spending time
with the Wagner Societies!